Postdoctoral and Student Opportunities Available!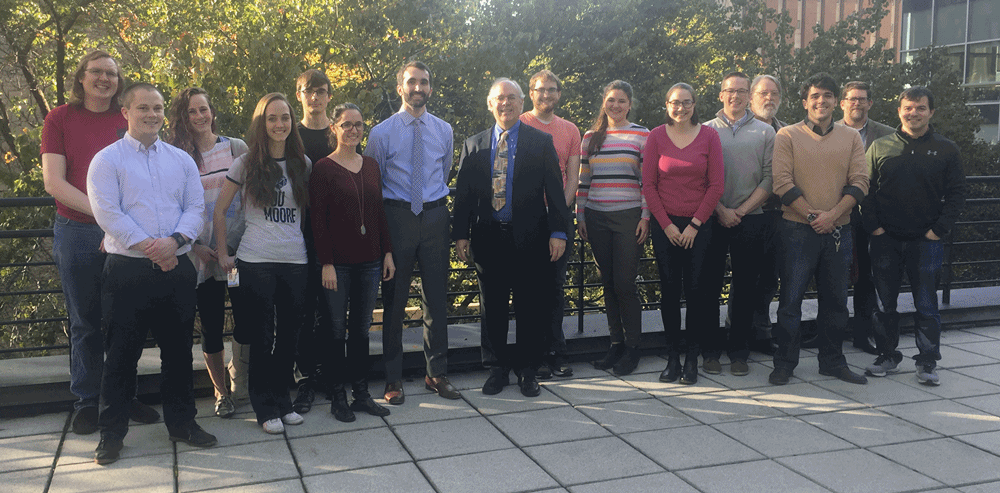 The Sibener Group celebrating Kevin's graduation (from left to right): Jeff, Darren, Becca, Sarah, Ross, Julia, Kevin, Steve, Jon, Ali, Michelle, Tim, Kevin, Zack Hund (former group member: faculty at University of Chicago Laboratory School), Dan Killelea (former group member: tenured faculty at Loyola University), and Jacob. October 25th, 2017
Welcome to the laboratories of Professor Steven Sibener. Our interests include chemical physics, physical chemistry, nanoscience, surface science, and materials research. This group web page is a survey of who we are and what we are about. Our current affiliations include the Department of Chemistry, the James Franck Institute, the Materials Research Science and Engineering Center, and the Institute for Molecular Engineering. An additional short summary can be found in the Department of Chemistry's online brochure. For a more in-depth discussion, please feel free to contact any of us or stop by if you are ever in the Chicago area.
---
Sibener Festschrift
Steven J. Sibener honored in special Festschrift issue of the Journal of Physical Chemistry C, July 2nd, 2015
Click the cover above to go to the issue, or here for more information.
---
Science
Click on a subject to learn more
---
Funding
| | | | | |
| --- | --- | --- | --- | --- |
| NSF | NIST | AFOSR | UChicago | DTRA |